A fully fledged Transport department functions in the college with buses to provide transport facilities to students. This service is offered to ensure hassle-free and safe transportation.

The College runs buses for providing FREE TRANSPORT facility to students from Perundurai Bus stand to College Campus.

To ensure safety and security of the students the college has employed qualified and experienced drivers.

The Transport schedule is designed in such a way that buses will reach the campus 10 minutes before the commencement of the academic work of the institution.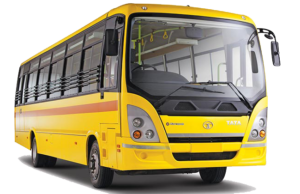 The students are advised to be at the boarding point 10 minutes before the arriving schedule.

If the student arrives late at the boarding point after the bus leaves the point, she/he shall make their own transportation arrangement. College does not hold any responsibility.

In the evening the buses will leave the college as per the schedule.
In case of sudden failure of buses, the students shall cooperate with the management and shall make their own arrangements. Every best effort will be made to avoid such situations.

For Transport related queries students can contact the Transport department.